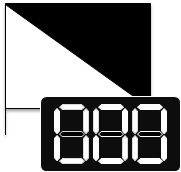 Black and White Flag, which is diagonally split into black and white, is displayed with the car number board at the observation post near the control line for the driver who have acted against the spirit of sportsmen.
Specifically, it is displayed when there is no penalty for a driver who caused contact with other car, but it is judged that one of the drivers is negligence.
Regulations
APPENDIX H INTERNATIONAL SPORTING CODE
2.5.5.1 f) Black and white flag divided diagonally
This flag should be shown once only and is a warning to the driver concerned that he has been reported for unsportsmanlike behaviour.
These last three flags (in d, e and f) should be shown motionless and accompanied by a black board with a white number which should be shown to the driver whose car's number is displayed.
The flag and number may be combined on a single board.
These flags may also be displayed at places other than the start line should the Clerk of the Course deem this necessary.
Normally, the decision to show the last two flags (in e and f) rests with the Clerk of the Course; however, it may be taken by the Stewards, provided that this is stipulated in the supplementary or championship regulations. The team concerned will immediately be informed of the decision.
When Black and White Flag is displayed
This flag is displayed as a warning, mainly in case one of the drivers is judged to be faulty, but not penalty for contacting or interfering with other cars.
Repeating the same action despite being displayed black and white flag may be imposed a penalty.
There are few opportunities to operate this flag in the race, and there are almost no scenes actually displayed.
Operate in SUPER GT
In SUPER GT, black and white flag is increasingly displayed as warnings of contact with other cars.
Because this flag is not a penalty, it does not affect the race result. Also, it does not need to be approved by the race steward to display black and white flag.
However, the race result clearly describe that black and white flag was displayed, and SUPER GT moral hazard points will be added.